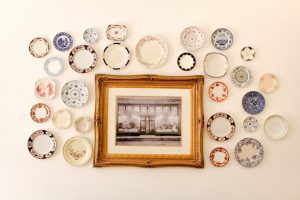 If you are currently in the middle of trying to decorate your home but want to do something that has a lot of impact but on a budget. Or, perhaps you are in a rental property and are limited to what you can do then here are plenty of suggestions about how you can personalize your space without breaking the bank (or perhaps your rental agreement!).
Often it is the empty walls that make people feel like they need to inject some personality into their homes. Obviously, depending on your rental agreement you might have to be careful what you adorn the walls with – so check in advance before getting handy with the Slatwall hooks and beautiful artwork.
Go Big!
Large pieces of art or a blown-up photo commands attention. It also solves the problem of needing to think about what works and what doesn't. A single piece of large art can set the tone in any space. If you are looking for something peaceful and relaxing consider nature scenes, the ocean or the skyline. If you are looking for something eye-catching and a bit of a statement piece try some black and white or abstract photography.
Gallery Wall
This is something gorgeous that allows you to show off who you are and what you love. You can add your art collection and your own photos or photos of loved ones. Different frame sizes and textures make this pack a serious punch without too much work. A great way to stock up on frames is by heading to your local vintage and thrift stores.
Mirrors
If you have a small or dark room, then mirrors will be your best friend. The will make to room look brighter by reflecting light all over it. And, when placed well they can make a room look more substantial too.
Shelves
Not only do they give extra storage but they give you the ability to display the things you love that aren't suitable for hanging like pictures or mirrors. You can curate what you want to display, like a small pile of your favorite books, small sculptures, awards or anything that you handmade.
Plants
You could opt for real plants, or fake ones but green walls are a thing of beauty. You can try wall-mounted planters, glass bowls with flat bottoms designed to be attached to a wall. Or simple had high shelves and place some small vine plants that has leaves which will trail down the wall.
Textiles
Some tapestries are too pretty to be walked all over, or hidden away in a spare room or in storage. There are tapestries specially design to hang on the wall, and they will often come with a pole in order to do so. But you can pretty much hang any type that you like. Weaved pieces are also huge right now. Originally something you'd see in the 70s, they are back and making an impact. They're very light, come in a range of textures and styles and work wonders for adding interest to a wall.

Latest posts by The Saving Gal
(see all)