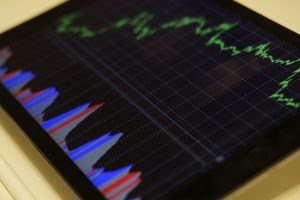 Investing in stocks for the first time can be both exciting and daunting. It's definitely riskier than putting your money in a savings account, but there's also the prospect of making a much bigger return. 
You can start investing in stocks at any time. However, it can be easier to learn the ropes and secure a return when the market is relatively stable.
2020 certainly hasn't been a very stable year. In fact, it's been the most volatile year for trading in recent memory. The pandemic, the US presidential election and Brexit have caused prices to fluctuate erratically throughout the year. Investing a lot of money right now as a trading novice could be very risky – but could things be different in 2021.
A return to relative stability?
With the election over and hope of a vaccine, there could be a return to relative stability in 2021. This will make it much easier to speculate the way in which prices are likely to go and therefore could make it a great time to start investing.
There are of course some big ifs that could result in more volatility. The Brexit transition period is set to end December 31st 2020 – in January, the full impact of Brexit will be felt, which could have a particular impact on UK stocks. Many countries have also been going back into lockdown – with the US even proposing the idea of a nationwide lockdown. On top of this, there's no certainty that a vaccine will be distributed any time soon.
In other words, 2021 could still be a rocky ride, however there's unlikely to be another big crash as there was in March 2020. 
Educate yourself
The best way to reduce the risk of loss when getting involved in stocks is to take time to educate yourself. By reading online guides including Youtube videos and blogs, you can start to work out the secret to trading success. 
It's worth also spending a couple months watching the stock market to get an idea for how it works. Some trading apps and programs allow you to practice with fake money. You could also try investing small amounts at first – some platforms allow you to buy part of a share for as little as $1, allowing you to get a feel for investing real money without risking a lot of it. 
Doing all of this can help you to better understand the market so that you can make more stable investments, even in times of volatility. 
Diversify your portfolio
You should never invest all of your money in one stock or into one type of stock. In times of volatility, a diversified portfolio can ensure that even if some stocks fall, others will go up
Try to select a mixture of growth and value stocks (some stocks may have a quick surge in value, while others climb slowly over the years). Try to also select stocks from a variety of industries (as the pandemic has shown, whole industries can be affected at once, but there will always be some industries that thrive). Spread your money out equally among these stocks.