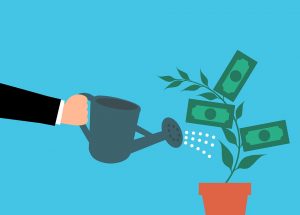 It makes a lot of sense to want to invest your money right now. With interest rates remaining low and stagnant, simply waiting for your money to grow in a savings account isn't a realistic option anymore. In order to see your money grow, it needs to be invested. But how can you make that happen without having to spend a lot of time and energy managing your investments and maximizing your gains? Read on to find out.
Plan Ahead
First of all, you should try to plan ahead as much as you possibly can. If you're going to start investing money, you can't simply wake up one day and invest it; it doesn't work like that. Instead, you need to think about how you can create a strategy that aligns with your goals and helps you move closer to them with the help of the right investments.
Use Dollar-Cost Averaging
If you want to simply invest in a few stocks or assets that are considered safe and reliable and you don't want to worry about timing your investments, you might want to consider dollar cost averaging. This is when you invest the same amount of money at a certain date each month or a certain day each week. The money will be invested automatically and you won't have to think about it.
Use a Financial Services Company
If you don't want to invest your money yourself and instead want to let someone else do that part of the work for you, you can use a financial services company that offers those services. By putting your investments in the hands of professionals who know what they're doing and who have the right professional expertise, you'll be able to ensure the best outcomes for your money with minimal effort.
Keep it Safe and Simple
If you're going to be doing your own investing but you don't want it to take up a lot of your time, it's a good idea to keep things as simple as they possibly can be. Don't overcomplicate your investing strategy because this will only lead to more problems for you later down the line and you'll end up spending more time on it all than you really want to.
Start Small and Grow Gradually
It's a good idea to start small when you're investing for the first time. That way, you'll have a chance to learn the ropes and make mistakes along the way without them meaning too much or causing you big and lasting problems. You can then grow and scale up your investing approach gradually from there.
As you can see, there are many ways to invest your money without having to turn yourself into a full-time investor, so make the most of the advice and options outlined above. If you don't want to do the work yourself, you'll always have the option of putting your investments in the hands of someone more experienced.