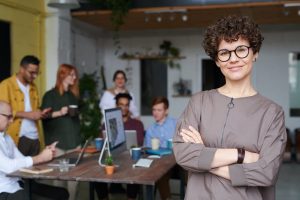 Not everybody has the tools necessary to be a successful leader. This requires effective communication skills, analytical thinking, and the ability to navigate contingencies. For those who do, however, there are plenty of opportunities that you can take advantage of when it comes to your potential career options.
Let's explore some of the most notable leadership jobs.
1. Chief Executive Officer
Of all the career opportunities in leadership, there are few quite so prestigious as being the CEO of a high-profile company. While this is certainly an example of when having business connections can help you get ahead, it's also important to note that your education level will play a key role in determining how successful you are in pursuing such a role.
If you have a Ph.D. in some type of relevant field, you will stand a much higher chance of being considered for this type of role compared to someone with a high school diploma alone.
2. Business Development Manager
In order to successfully run a business, there needs to be an effective distribution channel that allows the sale of one's product or service. This is where a business development manager comes into play, as they are responsible for finding new partners that are able to distribute their product or service.
If you have an MBA, this type of career option will be one that you'll find particularly desirable compared to those who do not have such qualifications.
You can check out this resource to learn more about leadership secrets for financial advisors.
3. Information Systems Manager
As technology continues to rapidly advance, there's no doubt that having an information systems manager on your team is crucial. This type of career opportunity will be sought after by those who have MBA degrees and experience with relevant software programs (such as MS Office).
There are plenty of careers available for those who wish to pursue leadership development jobs.
4. Engineering Project Supervisor
One of the best ways to find success in leadership is by having a strong educational background with relevant experience. If you have at least an associate's degree or its equivalent, then there are plenty of opportunities that will be open for you as long as you prove your competence and reliability through past work experiences.
When handled correctly, becoming an engineering project supervisor is one of the best jobs for natural leaders.
5. Information Security Analyst
In today's world, information security is vital for any business. As such, having someone who will invest the time and resources necessary to make sure that your company's digital assets are secure is essential.
With at least an associate's degree or its equivalent, along with excellent communication skills and attention to detail, this type of career opportunity will be open for you as long as you prove your skill and reliability through relevant work experience.
These Leadership Jobs Could Change Your Life
If you have the necessary criteria, it's worth pursuing one of these leadership jobs. Be sure that you keep the above guidelines in mind so that you can make the decision best for you.
You can check out our blog for other useful information about how to advance in your career.