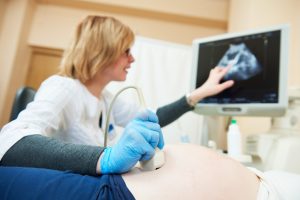 An imaging department may take as many as 50 ultrasound scans per day.
An individual technician may take as many as 15 ultrasounds during a working day. But what exactly does the role of an ultrasound technician involve?
What are the reasons for taking ultrasound scans in the first place? What are the scans able to show, and how are the results used?
Read on as we take a closer look at what an ultrasound technician does.
What Is an Ultrasound?
An ultrasound is also sometimes known as a sonogram. Both names give a clue to how the technology works.
The ultrasound machine generates high-frequency sound waves which pass into the body. The sounds bounce back before being collected by a transducer, and a computer then translates those signals into an image.
Ultrasounds can produce images of the inside of a body without the need for the harmful radiation of other methods such as x-rays. Because ultrasound captures the images in real time, it is also possible to see the movement of internal organs and blood vessels.
What Can an Ultrasound Determine?
One of the most common uses of ultrasound is in pregnancy.
Ultrasound technicians can measure the fetus and look for developmental problems. Some of the tests that an ultrasound technician can perform include:
confirming a pregnancy
Estimating due dates
Checking for a heartbeat
Confirming ectopic pregnancies
Measuring growth
Confirming gender
Identifying physical abnormalities
Confirming multiple pregnancies
Finding symptoms of Down syndrome
Determining fetal presentation before birth
Aside from pregnancy, ultrasounds are also used as a diagnostic tool. They can help diagnose problems with organs such as the heart, liver, kidneys, and pancreas. It can also help to find and treat soft-tissue injuries.
What Does an Ultrasound Technician Do?
The role of an ultrasound technician is more than just performing the ultrasound itself.
Duties will include preparing the examination room, looking after the equipment, writing up reports based on the results of the ultrasound examination, and assisting with ultrasound-guided surgery. The role also requires the ability to work independently, solve problems, make clear decisions, have good interpersonal skills, and be able to maintain a high level of confidentiality.
Technicians need to be able to recognize the anatomy involved in the ultrasound scan as well as know how to operate the equipment. This means that ultrasound technicians will have completed an appropriate ultrasound course or degree program.
Are You Considering a Career as an Ultrasound Technician?
If you're considering a career as an ultrasound technician, then we're here to help.
We have plenty of articles to help you with your career goals, including personal finance, taxes, investing, debt, and more. We also have articles covering family, saving money, and planning for retirement too. We're sure that whatever you're looking for, you'll find someone of use.
Check out our retirement section to know how to start saving once you land your dream job of being an ultrasound technician.