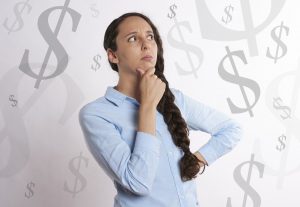 Finances are something that, as adults, we have to learn as we go, and although that can be exciting and offer plenty of opportunities, it can also lead to plenty of mistakes, and unmanageable or uncomfortable debt is one of those mistakes. Once you're in debt, it's very hard to get back out again unless you take complete control of your finances. This is not impossible, even if it feels like it at first; read on, and you'll soon see there are a number of different ways to do this and make your finances much more manageable in the future. 
Start Budgeting
One of the reasons why finances can get so out of control is that you have no budget to stick to. Without a budget, you won't necessarily know what you can and can't spend – what is available money and what needs to be put to one side for non-negotiable expenses like your accommodation and food needs. By spending too much without realizing or not allocating enough money to the essentials in life, you will find you have to borrow money, and the cycle will just go on and on. 
 By setting a budget, you can stop adding to your debt at least, and if you're not yet in debt, you can prevent it from happening. Budgeting will also help you to know whether your income is enough for the way you want to live. If once you've worked everything out, your outgoings are greater than the money coming in, you'll need to make some significant changes such as finding a better-paying job or looking for a cheaper place to live. 
 Pay Off Your Debt 
Once you have a budget in place, you can use it to allocate money towards paying off your debt. At the moment, you might only be paying the minimum amount you need to each month, but this will mean it takes much longer to pay everything off, and it will cost you more due to the interest that will be added. Paying off more whenever you can mean that you will reduce your debts more quickly, and you'll be much more financially free, plus your credit score will improve. 
 Take a look at the budget you've made, and you'll see what' spare money you have. Use as much of this as you can to put towards paying your debts. Once you're done and your debts are gone, you can put that spare money into a savings account instead. 
 Set Up A Financial Plan 
If you want to take control of your finances, a financial plan is vital. In this way, not only will you be able to use your money more wisely, but you'll also be able to work towards achieving bigger goals in your life, such as saving for a new car or buying a house. 
 It's great to get professional advice from someone as qualified as Wayne Blazejczyk ASIC when you want to get a financial plan in place. Although it is possible to do it on your own, if you have an expert to assist you, you'll know that you're doing things the right way, and you'll be able to discuss all the different options such as investments and savings at the same time.