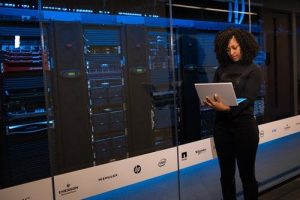 One of the biggest problem business owners are facing in the current technological age is generating the right temperature for their servers to operate efficiently and effectively. If they fail to do this then they are assured to experience the dreaded moment when one of their crucial networks breaks beyond repair because of overheating. This will continue to happen again and again until the right level of cooling is provided. 
Network Centers
Luckily, because of the necessity of this and the innovations of the modern day, finding effective cooling for your server racks is nowhere near as difficult as it once was. Plus, companies like https://www.beartech.com/ can assist with all tech requirements like this. Thus, keep on reading to discover some of the best tips for the effective cooling of your server racks…
You can actually buy server racks which have in-built cooling methods for your business. There are a lot of racks that have fans installed at the bottom of them. This allows the cool air to travel upwards and ensures that all of the servers benefit from a cooler temperature. These are extremely effective. However, if you have already purchased your server racks it would be largely inefficient and very expensive to simply go out and buy new ones all over again. And, the good news is; you don't have to. You can actually buy fan trays that can be slotted into your existing data rack. These work in the exact same manner as a server rack with the in-built cooling option would do. 
Seal Of The Rackspace
In addition to this, many experts recommended sealing off the space whereby the equipment is placed. By doing this you will have optimum level of control and therefore the chances of any nasty surprises are limited. By sealing off the space this means that there should be no open doors, no open windows, no cracks whereby the air would be able to escape – such as missing ceiling tiles, shut off all the ducts and close off any vents that relate to AC that has been installed for mere comfort purposes. It is not recommended to have the two systems mixing. 
Monitor The Temperature
Aside from the points that have already been mentioned, it is also highly recommended to monitor the temperature of your server rack. There is some good advice at https://www.racksolutions.com/news/blog/how-to-server-rack-cooling/. You can buy specific equipment for this or you can merely install a small thermometer; whatever is easiest. The importance of this cannot be stressed enough. You may think that there is no need to monitor the temperature of your server rack. After all, if you have in-built fans in place then you can be sure that the servers are going to be in a cool environment, right? This may be true. But what if one of the fans breaks? Or what if the power of the fans is not substantial enough for the number of servers present? The only way you are going to know if you have generated the right environment is to monitor it. 
If you follow the three cooling tips that have been provided in this article then you are assured to enhance the effectiveness of your server racks and ensure your networks are protected.