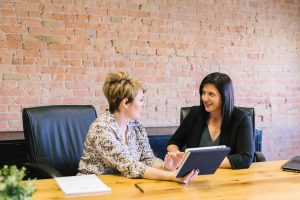 Growing a new business is tough. There's always a lot to think about and do, and it can feel as though you are constantly taking one step forward and two back as you look for ways to break into the market and make a profit. One thing that is crucial to the success of your company is your staff. Whether you employ three people, or thirty, these are the people that will do many of your day to day tasks. They might be the faces of your company, and the people that have the most contact with your customers. Or, they'll be the people doing all of the hard work behind the scenes, allowing you to present a polished and professional company to the world. 
That's why excellent employee retention is crucial. Staff retention levels are basically how long you can keep hold of your staff. If you have good retention levels, you'll have the same team for a long time. They'll gain experience and knowledge, they'll be loyal, and they'll care about your company. Good retention levels also mean that your employees get a chance to become a team. They learn about each other, and they can work well together. Poor retention levels mean that your team can never bond and your staff never become skilled. But, it also means that you are consistently wasting time and money on recruitment and training. So, let's take a look at some of the ways that you can improve retention. 
Take a Look at Your Recruitment Strategy
Your recruitment strategy might be the problem. Many new business owners make the mistake of drafting in friends and family to help, relying on freelancers for anything that requires specific skills. Or, just rushing out and employing the first people that show any interest. It's no surprise then when these people leave when work gets tough, or when something better comes along. Run onboarding surveys to get a better idea of why people are leaving or staying, and what is working and isn't, and then take a look at your recruitment processes. Do you have an application form? Do you use an interview template? Have you tried trial shifts? Take time with recruitment, and you'll save time later. 
Hire a Mix of People

Young, inexperienced staff are cheap. They can also be enthusiastic and keen to learn. But, a team filled with these people could be hard work. They'll only have you to learn from. Instead, try to hire a mixture of people. Experience might cost more, but it can be hugely beneficial. 
Hold Early Appraisals
Staff appraisals take time, and you might think there's no point in running them with a new team. But, early appraisals can help you to deal with problems when they first arise, instead of letting bad habits set it. 
Be Honest About What You Can Offer
A big mistake people make when it comes to recruitment is promising the earth. They advertise a job with plenty of training and a chance for growth. They talk about responsibilities and bonuses and list perks of the post to attract interest. If you advertise things that you can't realistically offer, it's only fair to expect staff to leave you when they don't get what they applied for. Be honest with your job adverts and in the process, and your staff are more likely to stick around.