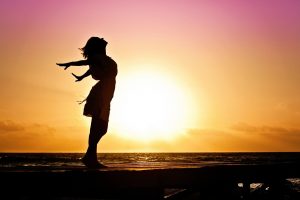 Many of us dream of moving to a different country. We long to escape our everyday lives, to throw in our jobs and to get away from the weather, politics, economy, and even people back home. Even if you are happy with your life, you might spend a little time wondering if you'd be happier abroad in those first few days after a vacation, and it's all too common to picture your escape to the sun after a period of harsh weather, a stressful time at work, a busy week cleaning your house or a trying time dealing with family issues and workplace politics. 
But, while an estimated nine million US citizens live abroad, it's not something that many of us give serious thought. They are idle dreams and fantasies, not things that we actually think will ever happen. We're often put off by the idea of giving up our whole lives. We're worried about the risks and uncertainties that come with a big move. That, however, doesn't mean that the risks aren't worth it. If you are considering moving abroad, and looking at a villa for sale in mauritius, here are somethings that you should ask yourself first.
Would You Keep in Touch?
One of the reasons that people move to another country is that they want to get away from people at home. They might want a fresh start. But, even if that is your primary reason for wanting to get away, there will be people back home, friends and family, that you should keep in touch with. How will you do it? Will you visit? Would you FaceTime? Email? Send postcards? If you are seriously considering moving away, speak to your friends and family and put some plans in place to make keeping in touch easier. 
What Would You Miss?
On impulse, you might say that you wouldn't miss anything. But, in reality, that's probably not true. Write a list of all of the things that you'd miss if you lived far away. Then, make plans to help you to cope, like keeping in touch with people, visiting home regularly, and ordering your favorite drinks and snacks online or taking them with you. 
Could You Work Abroad?
Work is a big sticking point. If you have retired, or know that you will soon be able too, this might not be a concern. But, most of us, far away from retirement age, need to work. Ask yourself if you could work remotely, or earn a living online? Could you work as a freelancer? Or do you have the skills needed to work in a different country? Would you be able to learn enough language to do so?
Do You Have Savings?
Moving house is always costly, and moving abroad is no different, even if houses and the cost of living would be cheaper in your new home country. You might also need time to settle and find your feet before you start work. Can you afford to lose income?
What is Stopping You?
The big question that you need to ask yourself is, what is stopping you? And is there any way to compromise, or to remove obstacles? Enjoy life!